Home
Welcome to the Bradford Railway circle website.
Traffic Notice
Bradford Railway Circle Meetings commence at 7.30pm and are approx. 2 hours duration.
Thank you
The next Transport themed meeting will held at Sedbergh Community Centre. On Wednesday 19th December. When we welcome Eddie Lumb, who will be presenting "African Travel of Wadey".
(Talks are held fortnighly, All welcome £3 non members)
To all members of the Circle, we only have speakers for the first halve of next year, as you can see on the diary for 2019.
The Wednesday fortnightly dates from 3rd July 2019 are free.
If you are able to put on a presentation, about any form of transport please contact Peter Holden, Tel 01274 225995
email, pholden1961@hotmail.co.uk
Bradford Railway Circle was founded in 1945 after a Bradford gentleman put an advert in the Telegraph and Argus and as of 2017 we have approximately 100 members.
In 2015 we celebrated 70 years with a dinner on the KWVR (see Gallery).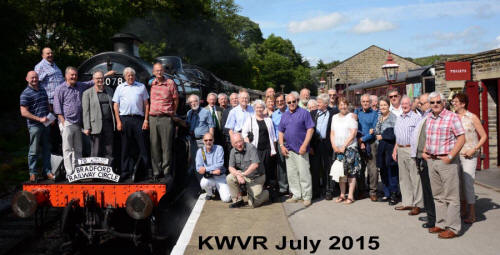 News

2015
A selection of pictures from the Circle dinner on the KWVR summer 2015 added to gallery page

The 2016 diary added to the diary page. A pdf copy can be downloaded from the downloads page.
To celebrate our 70 years of existence the Circle held a Members' Sunday Lunch trip on the KWVR on 12th July 2015.